SIGNATURE WEDDING DESIGN IN PHUKET
---
"The most Romantic & Charming Wedding under a stormy sky"
On the 28th August 2016 Ivy & David celebrated their Destination Wedding in Phuket, at the Renaissance Phuket Resort & Spa, stunning Venue. Their Phuket Luxury Wedding has been designed and planned by Wedding Boutique Phuket.
***
Part 3 – The Western Reception Dinner & Party
Talking with the Bride: << Although our Wedding has been blessed by the rain just after the ceremony, our Wedding Planner was ready with the most enchanting marquee tent we ever seen! It was perfectly set on the beachfront lawn and we spent a magic night under thousands fairy lights and candles.
Every single moment has been special and unforgettable: we eat, danced, laughed and felt truly grateful and happy for that "Once in a Life" day we got.  Then… Fireworks? The fairy tale happy ending that just left anyone speechless!>>
Visit the full Gallery to see how Wedding Boutique Phuket has setup the perfect frame for their most emotional moment…
THE MAGIC MARQUEE TENT
Talking with the Wedding Planner:  << Choosing a marquee tent for your Reception Dinner is a great added value to your Wedding. It creates the perfect cozy atmosphere for your Guests and, in the low season, it protects you from possible storms and windy nights. It's the perfect solution to give a stunning effect to your Wedding Reception setup without going for the indoor backup plan in case of rain.>>
THE WEDDING SIGNAGE
Talking with the Wedding Planner: << Having a tailor made design enriched with hand made items as the Wedding Welcome Sign, the Seating Chart, and the Wedding Stationery is a very nice "gift" for every Couple. We want Bride & Groom with all the Guests to feel Special and Unique on their Big Day. >>
THE TABLES SETUP
Talking with the Wedding Planner: << We put a lot effort to let all the Guests feeling comfortable at the Reception Dinner. A special attention is given to the HEAD TABLE that we always like to decorate in a different way from the other guests tables. >>
LET THE PARTY STARTED!
Talking with the Bride: << Oh, so much fan we had during the Reception Dinner… we almost forgot to eat! Our Wedding Planner, Ilaire, suggested us to take photos at the photo booth corner with all our Guests instead of  having the standard Table turnaround photos. That was a wonderful idea for great memories! >>
THE FAIRY TALE HAPPY ENDING
Let's have our intimate moment as Husband & Wife…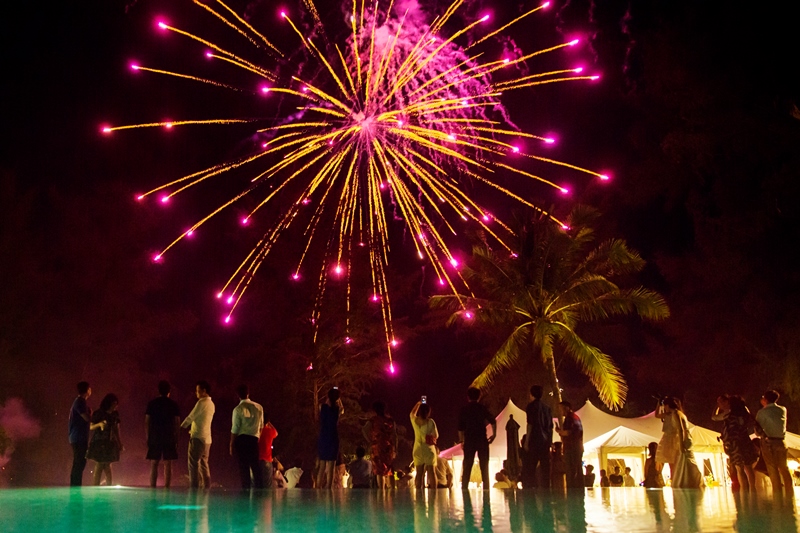 …while Fireworks enchant all our Guests.
***
… And they lived HAPPILY EVER AFTER…
***
Contact Us  for your Memorable Event by Wedding Boutique, Wedding Planner Phuket.