Your Phuket Event Planner!
Our sister company Phuket Events Boutique, is specialized in  any kind of events, such as: Birthday Parties, Themed Parties, Corporate Events, Grand Openings, Chinese Tea Ceremonies, Engagement proposals, Romantic Dinners, Anniversaries, Vow Renewals, Style Photo Shootings, Fashion Shows… and more.
Wedding Boutique Phuket is a renowned wedding planning agency, but during the last year, understanding the local market request of this island, has finally extended its professional experience to the party and events organization. We have been busy showcasing nothing less than amazing birthday parties, kids parties and new restaurant grand opening in the latest months, we are ready to hit more goals on Phuket island life on coming future.
Kids are quite demanding nowadays… and surprise them with a special Birthday Party with their little friends is a MUST! That's why we have the same peculiar attention to details as for weddings, we design the kids events with unique themes and inspirations. We offer you original ideas, amazing entertainments, funny yet elegant decorations and a yummy catering buffet. Balloons, animators, games and dessert bar will not be missed. Mums no stress… just call us!
Our "one-stop Event planning service" allows you to get an unforgettable stress-free party for you and your guests in Phuket. We offer you exclusive, unconventional and tailor-made private party designs, dedication and hard work on every project. Our promise is to amaze you with creativity, high level of assistance, professional service and our extensive experience.
OUTDOOR PARTY & PICNIC SETUP
Phuket is definitely one of the best places to have an outdoor party and we have so many ideas to amaze you! Picnics on the beach or directly at your villa, warm and cozy outdoor dinners under hundreds of fairy lights and much more! We offer you exclusive, unconventional and tailor-made private party designs, dedication and hard work on every project. Our promise is to amaze you with creativity, high level of assistance, professional service and our extensive experience.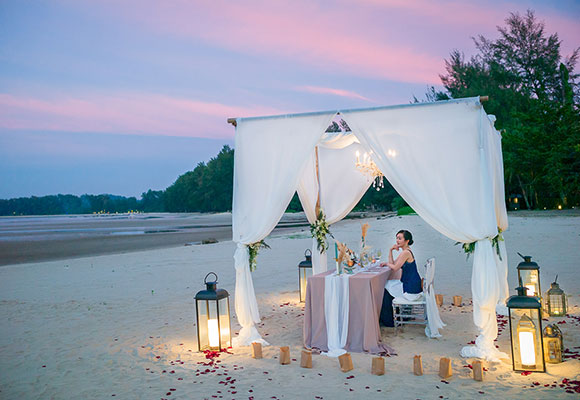 Whether you've been married a day or twenty years, we will help you celebrating your undying love in Phuket. Let us pamper you with romantic moments focusing on what's most important: time for the two of you with the best exotic backdrop, Thailand. We organize and setup for you an unforgettable candle-light dinner on the beach with unique precious decors, personalized details and a tailor made set menu dinner with bubbles. Celebrate with us your anniversary, vow renewal or simple moment of romance.
PUBLIC & CORPORATE EVENTS
We help you organizing any kind of public event in Phuket, such as your Grand Opening party for any commercial activity: Restaurants, Shops, Hotels. As well as coordinate your corporate event with several options of venues in Phuket, giving to your party a unique and exclusive creative touch. You can choose your event inspiration theme among many proposals, the final result will be original, elegant, fun and of course… Unforgettable!
As soon as the festivities arrive, everyone wants to show an impeccable setting either at a private or public place. Whether for Halloween, Christmas, New year or Easter we assist you with a creative design and decoration service at your home, your shop or your restaurant. We are event designers and organizers and professional holiday decorators, take advantage of our creativity and experience to decorate your space in the best way ever!
Thailand is an amazing, enchanting, open mind destination to get married for same-sex couples because "Love is Love" and it has no gender and no measure here. This country has always been popular with the LGBT community for its equality culture, and symbolic same-sex wedding ceremonies happen in the most beautiful secluded venues that Phuket island offers. Don't miss the chance of an unforgettable intimate gay wedding with us.
ENGAGEMENTS & PRE-WEDDINGS
If you are planning for an unforgettable engagement proposal in Thailand… don't miss the chance to remember that moment forever with a dedicated planned event and photo Shooting. Engagement /Pre-Wedding photo session is an amusing experience for any couple, moreover, a story of love told in beautiful pictures will be a unique and original present to friends and relatives. Surprise your partner with something unique, contact us!
RELATED SERVICES AVAILABLE
1hr PHOTO SHOOTING at sunset includes: 1 location on the beach, professional photographer, 40 edited pictures + unlimited original pictures. – 4 hr PHOTO SHOOTING includes: 2 different locations (choice from: beach, temple, city, viewpoint…) professional photographer, 80 edited pictures + unlimited original pictures. – half day PHOTO SHOOTING (6/7 hrs) includes: mini tour around Phuket with choice of different locations, professional photographer, 150 edited pictures + unlimited original pictures.
Set on the best Phuket beaches or lake spots, located at a glamorous beach clubs and restaurants. Includes: Andaman seafood dinner + 1 wine bottle + romantic table setup, candlelight and flowers decoration on table. Champagne or any extra can be ordered with up-charge.
From noon to the sunset, the best VIP experience on board! A private luxury catamaran cruise around Phuket (daily different tours in high/low season) includes: daily tour, welcome drink, towels, finger-food lunch, drinks and refreshments, snorkeling gear, music. (**possible to combine with 4hrs of Photo Shooting on the boat)
Rejuvenate your body and soul with Thailand's best wellness retreats while here for your holiday. Thailand is considered one of the best places to go for a health and wellness retreat, with the combination of healthy Thai food made with herbs, peaceful sceneries, and relaxing activities such as massages and yoga, wellness retreats in Thailand will help you find inner balance and give you the energy to live longer.
Need Any Information? Please Contact us.
Contact us to get your Personal Quotation!