Find your Phuket Wedding Destination!
When it comes to Thailand wedding venues, there are a number of amazing places to "Thai the knot". If the Bride & Groom wish to say "I do" in a unique and intimate way, a destination wedding in Phuket is ideal and Wedding Boutique Phuket is the planning company for you. With stunning beaches, lush gardens, luxury resorts, golden temples, romantic sunsets and crystal clear waters… Thailand offers the perfect exotic backdrop for the event of your dreams. And Phuket, the largest island in the country separated from the mainland by the Andaman Sea but connected with a bridge, is a destination that certainly finds a place in the itinerary of every traveler across the world. 
Choosing the Wedding venue is definitely one of the most important steps of a wedding planning, and a successful destination wedding depends very much on the best wedding venue choice. We understand that it could be difficult for our couples to pick a place so far away not being on site, but we are here to help you sharing our extensive experience and recommending our best venues selection. 
Some Phuket wedding venues are just great for a sandy toes beach ceremony, others for a secluded intimate elopement, and others for a romantic garden wedding. Some can fit a big wedding group of over 100 guests, some other is just ideal for a small group of guests under 40 people. While selecting your perfect wedding venue in Phuket you will find some breath-taking cliff-top luxury villas overlooking the ocean, some cozy beachfront resorts, as well as some very exclusive design hotels with any kind of architecture and style, perfect for a contemporary wedding inspiration or a tropical traditional Thai wedding design.
Some of our partners among the best wedding venues in Thailand: Point Yamu by Como, Trisara, Sri Panwa, Rosewood Phuket, Paresa, Renaissance, The Sala, The Naka, Villa Aye, Villa Aquila, Cape Panwa, Jivana & Sava Villas, Pullman Arcadia, Aleenta, Anantara, Marriott Phuket… and more!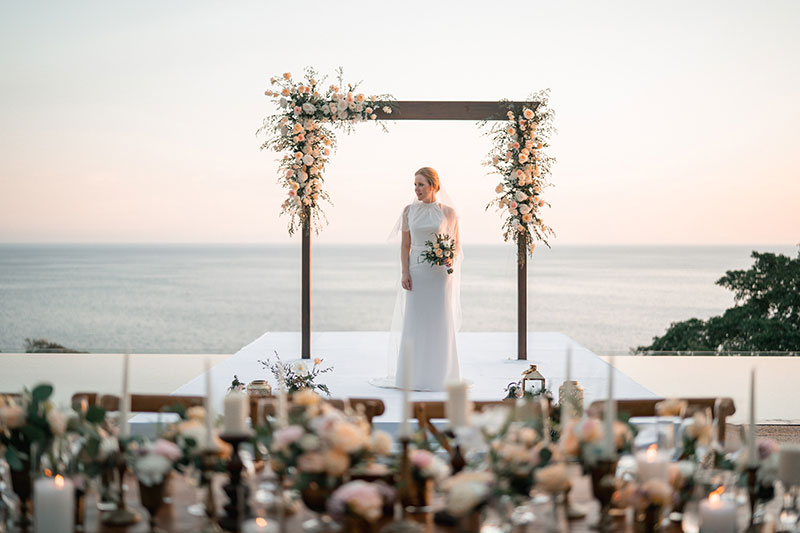 A private villa is certainly the best solution for couples that focus on 100% intimacy and exclusivity for their event. Phuket island has amazing options of luxury villas, either cliff top or beach front, for both ceremony and dinner to take place at the same venue with the maximum of privacy, comfort and relax.
Private villas are perfect for couples who want to accommodate with their families, and groups of guests that want to have fun and enjoy a pool party until late without any curfew. They are usually quite big with 5/7 bedrooms and always come with a fantastic private pool to enjoy for the whole vacation. A private villa wedding is suitable both for intimate small group of guests or large scale events up to 150 guests.
A private villa wedding is a very popular option in Phuket, especially for people that want to combine a stunning view for the ceremony with an unforgettable holiday experience, pampered in a luxury venue, with high quality staff service and a very appealing chance to party all night long with an open bar poured directly into the infinity pool. 
We are partner with the best luxury villas in Phuket and we are able to offer you our one-stop service to organize your memorable wedding in every part. From the accommodation booking, to the catering service, from the design of the wedding matching with the venue to the event day management and coordination of all the vendors involved, from the shadows for the sunny day ceremony to the lights for the magic reception dinner night.
Resort weddings are definitely a very popular option for every budget, as Phuket offers an infinity of choices of exclusive 4 and 5-star hotels located everywhere on the island. Whether you prefer to be close to the airport or near the nightlife of Phuket Town, we will certainly find the perfect solution for your wedding in a luxury hotel. Not mentioning you will find any kind of backdrop you are dreaming for, from pure sandy beaches to infinite blue ocean views or lush shaded gardens. A resort wedding is suitable both for intimate small group of guests or large scale events up to 200 guests.
Resorts are great for those who want to have all their guests staying together, possibly even for the full holiday. 5-star hotels in Phuket are masters in hospitality and offer a huge variety of services, facilities and group activity that your party won't miss. Tours, excursions, kids playgrounds, Thai kitchen classes, morning yoga sessions, sunset happy hours and more!
Couples that choose this option certainly care about their people like no other, planning to spend more quality time with their guests before and after the wedding. And when it comes to the wedding day you will for sure be amazed by the professional assistance of the resort on site event & banquet teams, capable in any kind of event management, coordinated by our expert wedding planners.
We are partner with the best luxury resorts and 5-star hotels in Phuket, and we are able to offer you our one-stop service to organize your memorable wedding in every part.
A wedding at a beach club is the number one choice of young couples who want to have fun and enjoy the party-vibe more than the formal celebration. It's the perfect solution for all who loves the idea to be closed to the beach and dream of a wonderful sunset photo shooting by the sea.
Feel powder white sand between your toes, listen to the soft sound of waves caressing the shore and watch the sunset creating a perfect dramatic silhouette.
We have several well-known glamorous beach clubs on the island suitable for young group of guests ready to party all day long, as well as more relaxed and rustic venues by the beach, perfect for an intimate ceremony for "the two of us" or small groups of people. Both solutions come with a stunning white sand and clear water backdrop that no-one will forget.
If a casual ceremony with sandy toes and a trendy beach front reception dinner are on the top of your bucket list, then the beach club wedding is what you need. Stay away from the group travel plan troubles, book your flight, find a deal at your favorite hotel and "Thai the knot" on a Phuket beach (Hangover kits are highly recommended!).
Can you think of anything more glamorous and adventurous than getting married on a luxury boat? If you are an out-of-the-box couple that wants an exclusive yet unforgettable experience, then this is the perfect choice for you.
Reception dinners can be just amazing right in the middle of the ocean during a journey or while anchored in a tiny secluded bay. Cruise ship weddings photo session under the sails and on isolated pure shores, champagne on the deck just before the sun drops into the water will stay in your forever memories.
One of our company members is a professional skipper and we are partner with several chartered yacht companies on the island, we can certainly offer you great deals and creative solution for your wedding on board. We promise you the clearest water you ever seen, the most pleasant ocean breeze and hundreds of fishes as your wedding guests… All this cruising across the Andaman Sea!
If you think a wedding on a yacht is too complicated, well, just leave the troubles to your wedding planner who will stick any decoration to the boat surface before the departure and… sail away from the conventions with a spectacular event for you and your guests.
Yacht charters are also available for pre-wedding photo shootings and group tours.
For those who are concerned of wearing formal outfits outdoor with Thailand heat, keep calm, we have the coolest solution for you too. Enjoy an aircon ceremony in a wedding chapel.
Phuket has a few beautiful and intimate wedding chapels around the island, all with a very panoramic view overlooking the ocean or a romantic lagoon. This wedding solution is good for small group of guests, as the chapel size is quite tiny for the most intimate result, usually not over 35/40 guests.
Even if symbolic destination weddings are the most popular choice in Thailand, we don't forget about different religious traditions too. For those who want to have a Catholic Christian religious ceremony in Thailand, we do have this option as well. The wedding will be conducted inside the church, by a priest, in the most traditional way, with the indoor space decorated with beautiful flowers matching with the church architecture. In this case, as for the legal marriage in Thailand, there are a few prerequisites that need to be taken care of.
Both these ceremony solutions involve the reception dinner to be held in a different venue, leaving the couple free to choose from many options among Phuket best restaurants and hotels, or why not, a private villa.
Many of the couples from all over the world imagine their mystical wedding to happen at a Buddhist temple in Thailand, and this is definitely a fantastic way to include the local Thai culture into your destination wedding.
Buddhism is as much a philosophy as it is a religion. The open-minded and tolerant nature of the faith allows the clergy to perform wedding rituals for those who know little about it, including those who have never practiced the religion.
The day starts before the sun rises (at 5 am) with the preparation and giving of offerings to the monks as they do their prayers, the merit you will receive makes the early morning well worth it for a enlightened everlasting marriage blessing. Then you move to the temple where the ceremony is conducted by 3 to 9 Buddhist monks, they will bless you with holy water, tie you with a symbolically 'binding' string, and place three traditional dots on your foreheads. 
There are several other interesting traditional Thai rituals that can be done in the occasion of a Buddhist temple wedding, such as the water blessing ritual where the wedding guests pour scented water over the couple's hands from a sacred shell offering their best wishes for a happy life together. This simple but elegant ceremony is a step into Thai history and tradition we highly recommend, as it can be easily incorporated into a western ceremony as well.