Destination Elopements after Covid19
Will the Global Pandemic bring more Destination Elopements soon?
We all know the Covid19 crisis seriously affected the Destination Weddings, but what is hard to predict is how this situation is going to change our business on the next couple of years.
Will the Global Pandemic bring more Destination Elopements instead of Weddings? Well, this is definitely a possible chance.
It's not a secret that Elopements were already the latest trend of the past couple of years, but this Covid19 situation might have pushed many Couples to opt for this choice while planning their Weddings for years 2020 and 2021.
But what does ELOPE mean and what's the difference with a Wedding?
While the technical definition of Eloping means "To run away and get married without telling anyone", Global Wedding industry professionals have agreed to define eloping "When a couple decides to celebrate their marriage with 10 or fewer people".  An elopement is a personal, intimate, and romantic alternative for couples who want their Wedding day to be focused on "the two of us" rather than on a big number of Guests.
Also, Elopements are almost always small intimate Destination Weddings, where Couples who elope want  to go on adventures together, travel together, get married abroad, no matter how far from their families and their traditions. 
So Elopement is something that often link Tourism and Wedding industries. It's like your Honeymoon begins before the Wedding Day.
Now, Covid19 is not over yet and already impacted the Tourism and Wedding world with travel restrictions, events new policies, and most of all fear.  A Destination Elopement could be a possible easier solution for a Couple of young adventurous people and a bunch of Friends!
Wedding Boutique Phuket is a Destination Elopement specialist in Thailand. We do organize many Couple Elopements every year and all of our intimate events have a special theme, color palette and plenty of unique decorations like anyone else!
You can learn more on our Beach Elopement page, and have a look at our Intimate Weddings galleries to see if this solution could be suitable for you.
Why choosing a Phuket Beach Elopement? Let's explore together which are the pros of a Destination Elopement in Thailand and enjoy some of our Couples best portraits as a proof:
Travel and Exploring together
Dedication to each other only
Choosing for yourself and doing what you love
Meaningful First Look moments
Enjoy a relaxed photo shooting on the Beach
Family unforgettable memories
Enjoy mother nature's beauty
No headache about seating plan!!!
Enjoy a full bottle of Champagne
Have the Cutest Wedding Cake ever
Low costs but top services and high style
Disconnecting from the reality for a while
Exploring new cultures and rituals
Sandy toes and salty kisses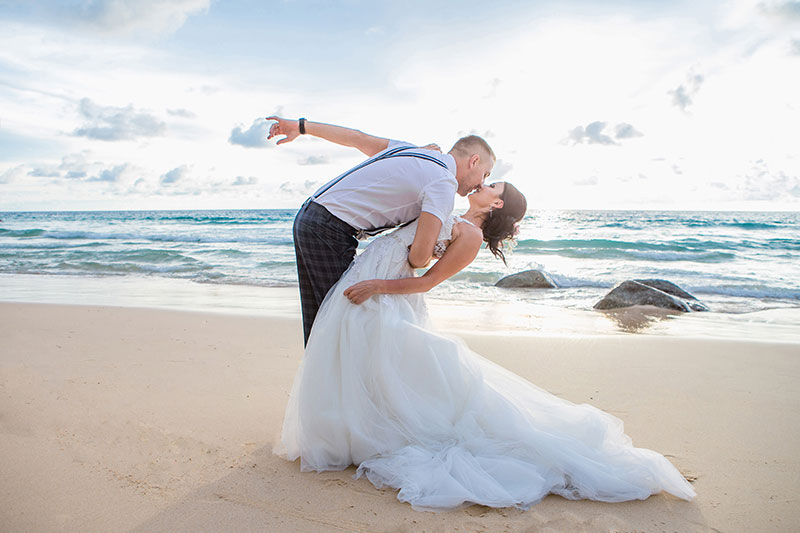 Combining Wedding with Honeymoon
Destination Elopements are the ultimate trend of Intimate Weddings Abroad just for "The Two of Us". This intimate kind of wedding appeals to those that want to run away from the daily routine and busy cities and elope in the most secret and romantic way on a beach! Exotic and mystique, Thailand offers an atmosphere unlike anywhere else in the world. Having your Phuket Beach Elopement here is sure to be a unique experience that you will remember Forever and Ever.
Try this unique experience… you'll get a wonderful Beach Elopement in Thailand with an intimate ceremony, a romantic dinner and a reasonable budget for your affordable Wedding.
Our Phuket Elopements are a masterpiece of our Wedding Planner agency and have been featured on several famous Wedding blogs as well:
WANDERING WEDDINGS: https://wanderingweddings.com/how-to-book-more-elopements/
BO-HO WEDDINGS UK: https://www.boho-weddings.com/170303/intimate-beach-wedding-in-thailand-by-wedding-boutique-phuket-and-avenir-studio/
INTIMATE WEDDINGS: https://www.intimateweddings.com/blog/greg-tarrahs-exotic-elopement-thailand/?fbclid=IwAR2-K75XHzHJwC99PkqLyOcDW3weKLYkcD-M0UyGjAG3AB0-xQdU_zBQvJI
***
Want to know more about a Destination Elopement option?
Contact Us to get your Professional Wedding Consultancy and our Tailor-Made Services!
for your Memorable Destination Wedding in Thailand by Wedding Boutique, Wedding Planner Phuket.
***
Our Couples and Photo Credits:
Shea & Jacob, Ana & Ike, Nadine & Ryan, Sammy & Chris, Kirsha & Jonathan, Kristi & Kristjan, Lauren & Mason, Saveth & John, Starla & Matt, Tylandra & Danny, captured by: Kata Wedding Phuket
Montana & Bill, Jenny & Jason, Alysha & Kevin, captured by: Maxmillion Project
Acacia & Ryan, captured by: Alen Karupovic
Chelsie & Jason, Zarja & Matic, Tarrah & Greg, captured by: Chang Elephantgraphy
Mandy & Matt, Grisel & Ryan, Sergjey & Tatiana, Tanya & Errol, captured by: Andaman Photowork
Matteo & Alice, captured by: Pavlo Kosenko
Janeke & Alex, captured by: Aht Yomyai
Lucia & Massimo, Tara & Andrew, captured by: Mellow Wedding
Running & Walter, captured by: Valentina Di Mauro
Lori & John, Shauna & Ray, captured by: Phuket Wedding Film