Renee & Aaron, Couple, Los Angeles, USA.
"My wife (Renee) and I recommend everything about Wedding Boutique!
From the time that Renee and I met Ilaire, the experience has been nothing but phenomenal.
Ilaire and her Wedding Boutique Phuket team are amazing and professionals at what they do!"
--> read more
Dhani & Jonny, Couple, Australia.
"Our number one piece of advice is to get a wedding planner and our recommendation is Wedding Boutique Phuket.
Planners take the stress out and mean that you can relax and know that your wedding is going to be a massive success.

And I'm sure that WBP are the best out there! Their professionalism and ability to fix any problem is out of this world.
Not to mention they make some of the most beautiful weddings we have ever seen.
We are so lucky and grateful that they were available on our wedding date."
Anjani, Bride, London UK.
"We had the most picture-perfect and magical beach wedding thanks to Ilaire and her team's hard work!
Ilaire really has an aesthetic eye, and she makes it happen in the most beautiful way possible!
If you're considering WBP you're in safe hands!"
Jenny, Bride, USA
"If you are looking to get married in Phuket look no further than Wedding Boutique Phuket!
They do seriously amazing work and will ensure your day is everything you dreamed of!

Every small detail of our wedding was absolutely perfect and they made us feel so special.
WBP exceeded all of our expectations and made our wedding day more special
and more beautiful than we ever could have imagined."

--> READ MORE
Maria Eugenia & Federico, Couple, Argentina - UK.
"WBP team took care of everything, and we were able to enjoy the event from end to end.
We didn't stress before the wedding, since they had everything under control, and we just enjoyed the day head on.
The attention to detail and the way they made us feel throughout the process was fantastic.
There was always a solution for everything that came up, and the planning was carried with elegance and style."
Laibond & Helena, Couple, Hong Kong
"We really can't thank Ilaire and the WBP team enough. We had an amazing wedding.
Truly, it could not have gone better, every detail better than we imagined.
They are consummate professionals with eyes for details, heads for organisation,
and a zesty creativity that brings your ideas to life."
--> READ MORE
Katherine & Dimitry, Couple, New Zealand.
"Dear Ilaire and your amazing team,

we could not be more grateful for everything you have done for us with our wedding.
We knew that our special day will be amazing however not in a million years did we think that it will so
unforgettable and flawless, and all because of you. All our guests said that it was the best wedding they ever attended.

Thanks to you and your amazing team we were able to enjoy our special day and did not have to worry about a thing.
Thank you Ilaire"
Sarah & Bea, Gay Couple, Australia.
"You will forever be our fairy godmother who brought to life the best day (and week) we (and our 70 guests) have experienced.
We are still in awe at how perfectly this career fits you and how many more beautiful weddings you will create
and how many more lives you will impact with your craft. You and David are forever a part of our lives.
We cannot thank you enough! We love you!"
--> READ MORE!

Jee Young, Korean Bride, Singapore
"Ilaire and Wedding Boutique Team were amazing and made our Wedding the Best Day Ever!
We are so thankful that we got to have them as our Wedding Planners, Thank you so much!"

Sarah & Prith, Couple, Hong Kong
"We cannot thank Ilaire and the Wedding BP team enough for making our Big Day magically beautiful.
We look forward to sharing dinners over a (few) bottle(s) of Montepulciano every time we are in Phuket.
Till then, keep up the great work of designing beautiful weddings and creating wonderful memories for couples!"
Robin & Darrel, Couple, Chicago Usa
"Dear Ilaire, Thank you so much for everything, our Wedding day was ABSOLUTE PERFECTION.
Every one of your team was amazing and so very helpful and everything was absolutely  stunning!
Somebody said there is always something wrong on your Wedding Day... but this is not true, with You guys, it's not! "
Juestina & Chuck, Couple, NYC Usa
"Oh, one week has passed already and everybody are still talking about how Beautiful was our Day!
We can't wait to see all photos and video to let that romantic memory live again. Thanks for Everything!!!"
Tammy, Bride, HongKong
"Special Thanks to Ilaire and the entire Wedding Boutique Phuket team for their great work!
Form the bottom of my heart, no one else could have envisioned and executed my Wedding so perfectly, beyond my Dream."
Vickie, Bride, San Francisco USA
"You guys have been wonderful to work with in the past year.
Your professionalism, attention to detail, and incredible organizational skills
played a huge part as to how perfect our wedding was!!!"
Mao & David, Couple, China
"I would like to give my special thanks to Ilaire for my Big Day in Phuket.
You made this happened... A perfect Dream Wedding!
Thanks for your understanding and patience. 4-months day and night communication on wechat!
You are a truly professional with love and care of us! Thank you!"
Elena & Peter, Couple, USA - California
"Ilaire planned a wedding for us that I will look back on, forever in disbelief because I can't believe it was mine!
If you're thinking about working with Wedding Boutique, you would be making the right decision.
Check out our page on her site: a Real Fairy Tale! "
Emily, Bride, California, USA.
"After emailing several wedding planners in Phuket, Ilaire responded immediately,
and offered so many ideas that helped shape my vision for our wedding.
I am still in awe of how WBP was able to take a collection of ideas and photos
and bring them to life better than I ever could have imagined! Thank you!"
Chelsea & Kyle, Couple, USA.
"We found Ilaire and her team online, and we reached out to multiple couples who had reviewed her services.
Everyone had wonderful things to say about her and her team, and we completely agree!!!"
Tara, Bride, Australia
"It rained the day of our wedding and Ilaire put her quick thinking cap on and made it all happen
- without me even having to worry about a thing. It was absolutely magical to walk down the aisle
and see the beautiful alter the team made possible rain, hail or shine."
Angela & Kayan, Sisters in a Double Couple Wedding, HK
"These photos are simply fabulous! We still cannot believe how magically you organized our Double Couple Wedding!
The idea of a Moonlight & Starry Night theme has captured all our Guests...
Thank you again for giving us this wonderful wedding in Phuket! <3"
Amelia & Dave, Couple, Australia
"I cannot thank Ilaire and the team enough for their help arranging my wedding in the beautiful Villa Aye.
I originally started planning my wedding with another planner and realized that not all planners are the same,
some planners are more of vendor organizers where as Ilaire and team are truly wonderful wedding planners!"
Vanessa & Mario, Couple, Macau
"We would like to thank Ilaire and her team for all the hard work and for sharing amazing ideas for our wedding!
Not only my husband and I were very impressed with everything going on at the wedding,
but we have also received many compliments and excellent feedback from our guests!"
Emeline, Bride, France
"My Heart is still in Phuket, set on our Wedding Day that the team of Wedding Boutique Phuket made unforgettable and unique!
Ilaire's Italian 'savoir faire' and her fine taste have contributed to create the perfect setting for our wedding,
our pictures speak for themselves!"
Bonnie & Jimmy, Couple, S.Francisco USA.
"We saw beautifully designed weddings by Wedding Boutique Phuket online and we decided that
Thailand would be the perfect location to bring all of our loved ones. When we met with Ilaire
via skype, we trusted her immediately and knew that she would help us execute our dream."
Stefanie & Kyle, Couple, Australia - Germany
"Dear Ilaire, firstly Kyle and I wanted to thank the Wedding Boutique Team from the bottom of our hearts!
You guys have made our day perfect and we couldn't have found a better Wedding Planner! 

Even Kyle and I were really nervous about the Day, everything went so smooth and was just perfect... 
Thank you for all the effort you put into our day!"
Susan & Tim, Couple, Singapore
"When we spoke to Ilaire it was clear she was creative, experienced and super passionate
about creating something bespoke for us. We decided to commit to her almost immediately.
Best decision we made on the whole journey!"
Naushaba, Bride, Singapore (and Worldwide :P)
" Ilaire was extremely hands-on about everything and the only thing we had to do was just show up.
She brought our (mine) vision to life and I couldn't have asked for a more fun, beautiful and relaxed Wedding. "

Eva & Dadi, Couple & Family, Iceland
"When we started our planning we found WBP webpage and loved all the beautiful pictures.
So we knew right then this was something that we wanted.
Then we read the testimonies and there was no doubt that we wanted Ilaire to organize our Wedding!"
Running & Walter, Couple, HongKong
"Hey Wedding Boutique team, thank you so much again for the wonderful arrangement
and every support in our small wedding.  We love it and It's glad our guest loves it too!"

Tylandra & Danny, Couple, Texas USA
"Me and my husband couldn't thank you enough, you're the BEST WEDDING PLANNER EVER .
I would absolutely recommend Wedding Boutique Phuket to the WORLD! You guys ROCK."

Heather, Bride, HongKong
"What a Meow-Wonderful Wedding you have created for us! Every little detail was exactly as we dreamed about... Thank You! "
Vivian, Bride, Shenzhen - China
"We knew WBP by 2 Couples of friends who had wonderful Weddings with them in 2016 and 2017.
This agency made our Dream come True in such a  short time, due to we decided to get married in Phuket only 2 month before!
All of our Guests considered the magic event as a lifetime memory and choosing Ilaire and her team was a wonderful experience."
Jim, Groom, Australia
"The morning of our wedding it rained. Ilaire stood in the rain and said:
<No problem, my 'spies' tell me it will be fine by five!> and it was.
No matter what the weather was to be, you have can have confidence in this team.
Both Susan and I are seasoned project managers.
With Ilaire and David, they showed us a master class in how to make good things happen.
Confidence in your Planner is the key. Go with them!"

Jasmine & Tony, Couple, HongKong
"Dear Ila, the day has finally come! Really can't imagine how we could come to this without your great support.
Thanks for taking care of us for over 1 year and now... we are going to miss you so much in our life!"
--> READ MORE!

Nadine & Ryan, Couple, Florida USA
"Ilaire and here Team were wonderful from beginning stages of planning to the day of our wedding.
She has wonderful vision and every wedding she does is unforgettable and unique.
She accommodated everything we wanted and was above and beyond everything we expected.
Thank you so much Ilaire for making our wedding memorable and magical."

Candy, Bride, Hong Kong.
"Thank you so much Ilaire and the team! Our Guests were really impressed about our Wedding,
and we loved it in every detail. You really went beyond our expectations."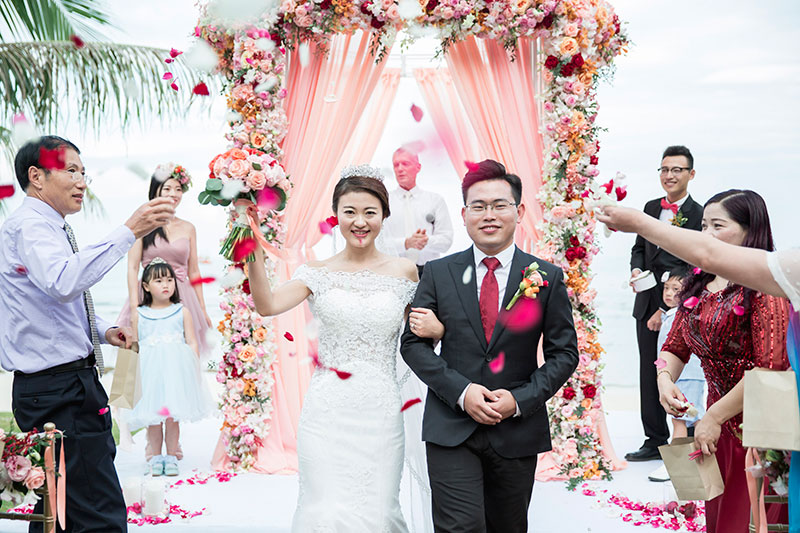 Ting & Chen, Couple, China
"Thanks Wedding Boutique Phuket! We got exactly the colorful and elegant wedding we wanted,
full of wonderful flowers and unique details designed for us. How cute were our calendar favors!"

Laetitia, Bride, Russia-Singapore
"Thank you Ilaire and your team, very much for all your hard work and patience with our wedding preparation!
The wedding was amazingly beautiful we loved every minute of it and it's so sad that it flew by so fast!!!"

Judy & Jack, Couple, HongKong
"Oh that altar... it was even beyond what we were dreaming... Thanks for everything."
Crystal, Bride & Wedding Planner, Virginia USA
"I am a Wedding Planner and decided to elope far away from home and family stress which I know very well.
I couldn't chose better than Wedding Boutique for my Big Day in Thailand. It was exactly as it has to be, perfect!"
Anthony & Kris, Couple, Hong Kong
"Dear Ilaire, we are so glad to have you as our Wedding Planner in Phuket,
Everything was just so beautiful and your service very professional! Thank you so much!"
Rachel, Bride, China
"Ilaire, how did you make my Dreams real? When I saw the setup it was exactly what I wanted since the 1st idea! Wonderful!"

Hartley, Groom, Australia
"Ilaire, Thank you to you and your team for making the wedding run so smoothly.
We have had many compliments on the wedding and how it was run, which is all due to yourself, and your teams hard work.
So please accept my thanks for providing us with these great services.
It was a big effort with a great result and we really appreciated your help."
Starla & Matt, Couple, USA.
"Amazing!!! Our destination elopement was a total dream.
Everything was planned to the T and made my experience as the bride so stress free.
I highly recommend the Wedding Boutique Phuket team."
Yuman, Bride, China
"It was everything incredibly beautiful and we enjoyed the Day so much!
Everything went smooth during the planning months, even if me and Ilaire don't even speak the same language... Magic!"

Alysha & Kevin, Couple, Canada
"Such lovely people who made our day so perfect and special.
Ilaire was easy to communicate with and replied to emails quickly. Thanks for everything!"

Diana, Bride, Singapore
"Ken and myself would like to thank Ilaire and her team for the wonderful work they have done for us to make our wedding perfect!
Her energy and enthusiasm was sincere and we certainly made the right decision to work with her."
Calina & Byron, Couple, Canada
"We just want to thank you again for your hard work and helping us with our engagement photos in Phuket.
It certainly was a pleasure to have met you, will not forgot the memories creating and capturing these special moment in our lives."

Telia, Bride, Australia
"I had so much fun designing with Ilaire. She thinks of everything.  Her creativity and attention to detail
made such a difference. It's amazing how the finer details can make the occasion that much more memorable."
--> READ MORE!
Aiko & Goki, Couple, Japan.
"We are shy persons but we want to thank you and your team for what you have done on our Wedding Day!
Everything was beautiful and all our Guests had so much fun. Thank you!"
Grisel & Raymond, Couple, Cuba
"We have no words to express how thankful we are to have found and worked with such amazing people
throughout this whole process of planning our small but immensely memorable day.
Thank you for making everything so easy for us and for the thought and detail that was put into our big day."
Jen & Gavin, Couple, New Zealand
"Ilaire and her team approached all aspects of our wedding with such enthusiasm, professionalism and creativity.
They have a unique way of working which makes you feel completely at ease. They are true experts in their field!"
Aaron, Groom, USA
"We quickly established trust in Ilaire, our planner, to execute an event that met all of our personal requirements. 
This was of utmost importance as we had a destination wedding...  
And, we couldn't have been more happy with all aspects of the Wedding Day!"
Jeannette & Hernan, Couple, LA, USA.
" Wedding Boutique did not disappoint! Our wedding was everything we could have imagined and more.
Thank you Wedding Boutique for such an amazing day..."
Alyona & Jerry, Couple, France-Russia
"Dear Ilaire and David, We want to thank you very much for your fantastic contribution to making our Wedding at sea
a true success and unforgettable day for us with our family and friends. Thank you again."
Kristi & Kristjan, Couple, Finland
"Hey Ilaire, everything was breathtaking, you made Our Day exactly as we wanted!
Ilaire has great team, she understands perfectly and easily what customer wishes,
and most of all she herself enjoys what she does."
Dareen & Kris, Couple, Dubai
"Thank you Ilaire, you made our wedding even better than we imagined ... We love you!!!
Everything was beyond lovely and we are very sad to leave now... Thank you for everything."
John & Lori, Couple, Canada
"We recently had our dream wedding in Phuket with wedding boutique. Ilaire was sensational from day 1.
She looked after us and ensured our every desire was looked after. Thanks. We couldn't of done it without you!"

Montana, Bride, Australia
"Thank you for everything Ilaire. Everything was really beautiful. Our Day has been amazing and we enjoyed so much!
Can't wait to see all the wonderful pictures we took at the Sunset..."

Annabelle & Lewis, Couple, UK
"Thank you to Ilaire for completely understanding what we wanted and making our beach wedding the most beautiful
day of our lives: you shine so bright and will always be talked of when we reminisce over our fantastic day! "

Chelsie, Bride, Arizona USA
"Ilaire & your team, we can't thank you enough for your great job for our amazing day!"

Shauna & Ray, Couple & Kids, Australia
" Thank you Ilaire and team, you are amazing at what you do!!
We would recommend anyone wanting to marry in Phuket to contact you.
Because of Wedding Boutique Phuket's amazing team we had a stress free, fun ceremony and dinner."
Simona & Filippo, Couple, Italy
"Grazie di cuore per aver partecipato con grande affetto al nostro Matrimonio!"
Krisztina, Bride, Hungary
"Ilaire, thank you so much for this day! Everything was very beautiful, thanks for our Wonderful Wedding in Phuket!"
Chari & Gavin, Maya, Eva, Family, Australia
" Thank you SO much Ilaire for organizing everything for our 10 year vow renewal.  Everything was AMAZING!! "
Mandy & Matt, Couple, Canada
"Ilaire listened to exactly what we wanted done, her execution couldn't have been any better!
For this we will have a lif

etime of beautiful photos to remember how perfect out day was!

"
Yuki & Kevin, Couple, Japan-USA
" Hi Ilaire, First of all, we can't thank you enough for the beautiful wedding.
We couldn't have such a great time without you and we all appreciate everything you did for us.
Thank you very much."
Yinan, Bride, Spain-China
"Everything was very beautiful , thank you Ilaire, can't wait to see all the photos soon!"
Tarrah, Bride, Florida USA
"WBP made our wedding one of a kind, a day we will never be able to forget...
we could not have accomplished this without this group of talented professionals."

Claire & Brock, Couple, Australia
"Guys, you are the most amazing people. Without you we would have been lost.
The professionalism and detail was more than we could of asked for.
We thank you both for making our day the most beautiful day."
Serghey & Tatiana, Couple, Dubai
"You guys are AMAZING! Seriously, you have organized our Elopement in two weeks
and everything was exactly what we wanted! Thanks You!"

Rachelle & Bradley, Couple, Australia
"Ilaire and her team did the most amazing job, we couldn't have been any happier with their efforts.
They ensured our special day was beautiful, stress free and absolutely perfect!"
Alice & Matteo, Couple, Italy
"Grazie alla vostra professionalità siete riusciti ad organizzare, anche da lontano, il nostro matrimonio da sogno.
È stato tutto sopra ogni nostra aspettativa, curato nei minimi dettagli ed in un contesto da favola."
Hani, Bride, Malaysia
"Even this was your first Muslim Wedding Ilaire, everything was perfect!
From the authenticity of the Ceremony to the amazing decorations inspired by the Arabian culture."
Niema & Ali, Couple, Canada
"Hi Ilaire, It was a pleasure meeting your staff today, everyone was so kind and helpful.
We had a great time and look forward to seeing the pictures. Thank you for all your help :)"
Tanya & Errol, Couple, Australia
"Oh Ilaire, everything was so beautiful. Thanks for having made our day in such a short time!
Today has been really the Day we were dreaming about..."
Jason & Kaitlin, Fiancee, USA
"We owe our amazing proposal to Ilaire! Thank you so much for making our special moment nothing short of spectacular!"
Belle & Gerard, Couple, France-Thailand
"We couldn't imagine how funny could be a wedding before having tried this amazing experience
with Wedding Boutique on board of Hype Luxury Boat. It's once in your life... it must be like that!"
Janeke, Bride, South Africa
"Soon another couple will be so happy and satisfied with your work! You really gave us a fairytale wedding...
I will never forget how special you made it. I'm so grateful we met you."
Danick & Christelle, Couple, France
"When you have seen us crying, it was just because of deep emotion… because all the rest was absolutely perfect!"
Chiara & Stefano, Couple, Italy
"Grazie ad Ilaire e' stato un giorno splendido: con la sua creativita' e la cura dei dattagli
ha reso il nostro matrimonio una giornata perfetta per noi e per i nostri invitati."
Kenneth, Fiancee, Malaysia
"Thank you Ilaire and the Wedding Boutique team for making my proposal a wonderful reality.
It will forever be remembered."
Carmen & Alex, Couple, Italy
"Avete superato ogni nostra aspettativa, per questo vogliamo ringraziarvi per quello che siete
riusciti a regalarci: un ricordo indelebile che rimarrà per sempre nei nostri cuori."
Erin, Fiancee, Australia
"I want to thank you for organizing the most perfect night we will always remember.
The most perfect pictures of our love, Thanks."
Cecilia, Bride to Be, France
"Ilaire as an amazing creativity and will work with u regarding your expectations.
Sure your wedding will be the most amazing day of ur life"
Yuri, Fiancee, Italy
"Professionalità e passione si vedono!
Grazie per averci regalato momenti indimenticabili della nostra vita!!!"
Lorelei Arnaud & Nana, Family, France-Thailand
"A unique lovely photo shooting in the amazing natural landscape of Phuket."
Robin, Fiancee, UK-Thailand
"From the very first email Ilaire was so helpful and did everything to make sure i had the perfect evening.
The set up was more than i expected and ticked all the boxes i had asked for.
This day will always live in the hearts of me and my fiance.
I cant say thank you enough to Ilaire and her team for making this dream come true."
Alla & Max, Couple, Lithuania
"Thanks Ilaire and the team, everything has been simple but unique exactly as we desired."
Amanda, Bride, Australia
"We wanted to elope during our holiday in Thailand, just me and Jesse... our budget was not big but we have been really happy
of the simple lovely setup that Wedding Boutique Phuket prepared for us. We have a wonderful memory of that Day together!"
Carolina, Bride, Italy
" Grazie di cuore, e' stato tutto esattamente come lo desideravamo e anche di piu'!
sono felice di averti conosciuta, anche come persona, e oggi amica."
MiYoung & Eddie, Couple, Korea-Thailand
"Thank you for every detail Ilaire, the setup was so beautiful, and
we couldn't imagine how could it be this Day without your help."
Curtis & Karta, Couple, Colorado USA
"Everything about the wedding was so amazing. Thanks for making the union to the love of my life so happy and beautiful.
I admire you a lot you get to make peoples dreams come true while living in paradise."
Alice & Daniele, Couple, Italy
"Ci sono sogni che si possono realizzare e voi siete qui per questo!!
Con pazienza, assoluta dedizione e professionalità siete riusciti ad avverare il nostro. Grazie!"
Kristjan & Maris, Couple, Lettonia
"We dreamed about this moment all for us, that it still blowing our mind after few months,
thank you for making our dream come true Wedding Boutique Phuket!"
Rasa & Shaun, Couple, UK-Lithuania
"Absolutely amazing service, from beginning until the end, considering we were miles away.
So impressed about attention and personal touch to every single detail."
Lianne & Shane, Couple, UK
"Thanks for making our Family Day so beautiful! Everything was exactly as we wanted. We enjoyed Phuket so much!"
Nikki & Luan, Family, UK
"We wanted to renew our Vows with our kids and parents after 10 year of an happy marriage...
Phuket was the ideal place for our holiday and Wedding Boutique the best choice for our intimate beach Event!"
Lauren, Bride, UK
"I've just seen our wedding photos and I'm just blown away... Matt and I had such a wonderful time and want to thank you for your amazing service."
Need Any Information? Please Contact us.
Contact us to get your Personal Quotation!